Join us October 17 – 19, 2019 in Louisville, KY for CDS2019!
Louisville, KY is one of the most uniquely authentic destinations on the planet – welcome to Bourbon City!  Louisville is an entirely different type of Southern.  From boundary pushing twists on Southern cuisine that have named Louisville as one of the "10 Best New Food Cities" in America to the one and only Urban Bourbon Experience, featuring the world's only, city-wide trail filled with award-winning micro-distilleries, exhibits and craft cocktail destinations.  Also discover one of a kind attractions like the legendary Churchill Downs, Louisville Slugger Museum & Factory, and the Muhammad Ali Center.
Louisville's Waterfront Hotel is quite simply the best place to find a unique and authentic experience in our exciting city. Sip some bourbon while taking in spectacular views of the Ohio River. We are just a shot away from Whiskey Row, where you immerse yourself in the history of Kentucky's native spirit. Explore world-renowned cultural encounters at nearby Museum Row, featuring icons such as Muhammad Ali and Louisville Slugger. Delight your palette with mouthwatering culinary tastings in our top-rated restaurant scene. Galt House Hotel is in the center of it all.
Amenities
Xhale Salon-Spa
Pool & Club 360 Fitness Center
Choice of stylish bars, restaurants and coffee shops
Complimentary WiFi when booking as part of the CDS Block
Rates
Deluxe Guestrooms:
$149 for Single Occupancy
$159 for Double Occupancy
$169 for Triple Occupancy
$179 for Quad Occupancy
Executive Suites:

$169 for Single Occupancy
$179 for Double Occupancy
$189 for Triple Occupancy
$199 for Quad Occupancy
Note: Room booking is open until September 26, 2019 or until the block is full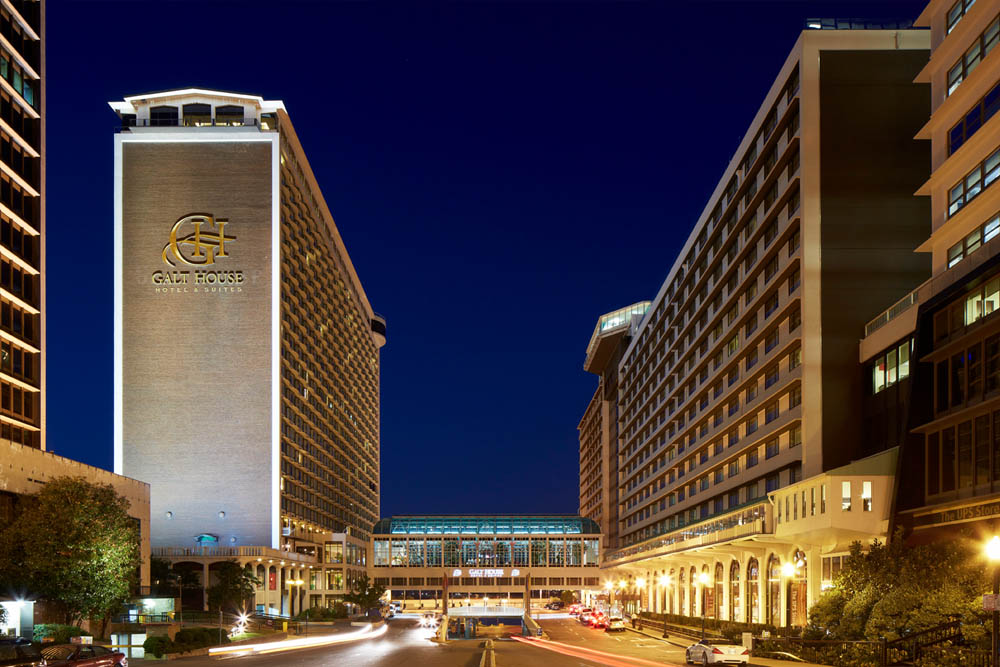 Interested in Roomshare?
Interested in finding fellow delegates to share hotel rooms with during CDS 2019? If so, please fill out our Roomshare form

Getting to Louisville, Kentucky
Louisville is easily accessible by domestic and international flights. With nonstop flights from major hubs like Los Angeles, Atlanta, Miami, New York (Newark and LaGuardia), and Washington DC (Reagan National and Dulles International). Louisville Muhammed Ali International Airport

---

Access from Louisville International Airport to the Galt House Hotel
Car rentals, shuttle bus service, cabs and ride sharing options are available for transportation from the airport to the Galt House Hotel.
Avis Car Rental – Call 1-800-331-1600 and quote AWD M615512 or BOOK ONLINE
Budget Car Rental – Call 1-800-842-5628 and quote BCD X536035 or BOOK ONLINE
---
Getting around Louisville
The Galt House Hotel is located in the center of Louisville with easy access to the interesting restaurants, sights and the world renowned Whiskey Row! Louisville offers unique transportation options to get around the city including the following:
Zero Bus – The Zero Bus covers a large area of Downtown Louisville and provides easy access to many local attractions with the convenience of boarding in front of the hotel:  Zero Bus can be ridden for free Monday – Saturday, 7:30am – 11:00pm.
Carriage Rides – Carriage Rides are available for transportation around the city and can be arranged directly with the hotel.
TARC Bus Service – The local city bus transportation is inexpensive to ride and the closest stop is a block from the hotel.
---
Tipping is expected in Louisville with the standard tip of 15 – 20% of the bill.
The currency in Louisville is the US Dollar
Major credit cards are widely accepted.
Under Louisville law smoking is not permitted in all enclosed public places.  The smoke-free ordinance includes the prohibition of electronic smoking devices and hookah inside public indoor places and worksites.
From March to early November, Louisville operates in the Eastern Daylight Time (UTC – 5 hours)
Average Weather in October in Louisville  is characterized by daily highs rarely exceeding 85°F or dropping below 50°F.
Visitor Centre
Find out more information about the city!